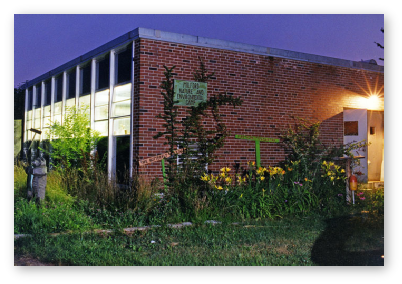 The Milford Marine Institute contains one of the most important collections of large marine mollusks in New England. Campers learn the complex feeding mechanisms of gastropods, pelecypods, and cephalopods as they handle these diverse specimens.
Campers find shells native to Long Island Sound. They then prepare a board displaying the mollusks of the Sound using both Latin and common names. (In photo thin lipped/thick lipped oyster drill).
Campers learn how to use a seining net. Species are identified and placed in temporary aquaria. Juvenile sea robins, flatfish, puffers, pipefish and other marine specimens are examined before they are released back into the water.
Learning the 9 marine habitats
Campers will learn the nine specific marine jhabitats and learn the cetaceans, sea turtles, pinnipeds, sharks, fish, mollusks and crustaceans which inhabit them.
Milford, Connecticut's location along the north shore of Long Island Sound provides unique opportunities for the study of marine biology. The Milford Marine Institute's Marine Biology summer camps take full advantage of both the numerous habitat areas–sandy beach, rocky coast, salt marsh and dune–of Long Island Sound and the species which inhabit them. Campers learn the names of the various zones within these marine habitat areas.
Every camp session includes visits to Milford's coastal habitats. Tidal zones are explained as campers collect numerous marine mollusca for later identification and scientific labeling.
Donated mounts of fresh and saltwater fin fish give campers the opportunity to examine the animals to learn markings and features.






For more photos from Marine Biology camp click here: